Charles Rose Hand Made Jewellery
Charles Rose is Australia's leading fine jewellery designer. Charles Rose also import and manage a large inventory of fine loose diamonds. By combining these activities Charles Rose match and complement gems to settings that reveal the best of both. The result is finer jewellery and enhanced value. Charles Rose master jewellers, designers and diamond graders are pre-eminent in their respective fields. Unlike competing brands, Charles Rose jewellery is fully bespoke, of superior workmanship, and set with diamonds of uniformly superior quality at consistently better value. Here are some selected steps in our hand making process, performed entirely in house: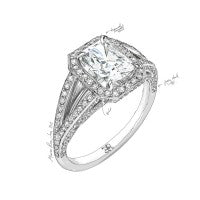 DESIGN
Our designers draw from a depth of experience to create a concept sketch that is refined. The design is produced from the ground up, without reference to presets or modules. The finished design has balance and refinement.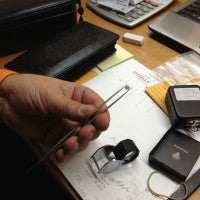 DIAMOND SELECTION
Diamonds are selected for brightness, uniformity, consistency of proportion, make and colour, shape and value for money. We are Australia's largest stockists of fine quality white and coloured diamonds. We hold an inventory of thousands of premium grade gems available for immediate utilization by our jewellers and for direct sale.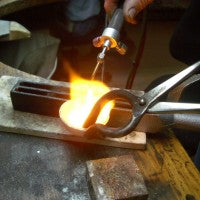 ALLOY
We produce our own proprietary alloys, to ensure colour, strength and ductility. We commence this process with virgin fine gold.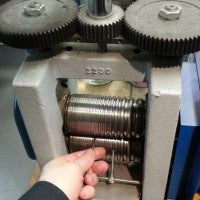 ROLLING
Alloy is rolled, tempered and calibrated to manage crystal structure. The structure of the gold after this step allows for better visual refinement of the final piece. The detail of filing is enhanced and the greater density of the metal imparts strength and resistance to wear. This translates to a longer wearing, more finely detailed item.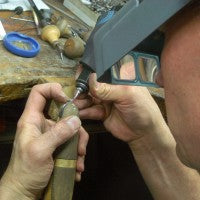 SHAPING AND SETTING
The jewellery item is fully hand formed, filing and finishing steps are meticulous, including the specialty skills of gem setting (all performed in house).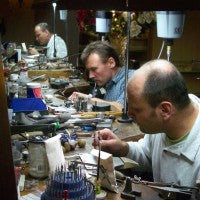 SURFACE FINISHING
Detailed machine polishing and rhodium finishing is a multi step process completed with attention to detail. The clarity of design and surface finish is of premium quality.